Charles Kwowe Nyaaba grew up at his parents' farm in the upper east part of Northern Ghana.  In 2009, he joined the Peasant Farmers Association of Ghana (PFAG), which has 1,527 registered Farmer Based Organizations (FBOs) comprising 38,989 individual members. PFAG is represented in all ten regions of Ghana and has three branch offices. To meet PFAG's need for research based knowledge in providing technical support to farmers and policy advice to the government, Charles is now pursuing a PhD degree at University of Ghana in Accra.
Charles Kwowe Nyaaba sees four major challenges facing farmers in Ghana:
Post-harvest losses causing 30-50 % to go to waste; and high levels of aflatoxin in crops, which prohibits exports to markets in e.g. EU and China
Lack of technologies to improve yield
Access to improved inputs, such as fertilizers
Outmoded tools for farming, harvesting and processing
In preparing for the PhD project, Charles focuses on conducting a cost-benefit analysis of addressing aflatoxin contamination in maize and groundnut in four ecological zones in Ghana. Aflatoxin contamination affects the health of many Ghanaians and the profitability of farmers and traders. The local market hardly recognizes aflatoxin as an issue in price determination and there is little testing to determine aflatoxin contamination.
During the study visit at Department of Food and Resource Economics (IFRO), University of Copenhagen, Charles was supervised by Associate Professor, Dr. Henrik Egelyng. Charles completed a literature review on aflatoxin contamination, received training on academic writing, and gained from a continuous dialogue on how to build the PhD thesis. To study the Danish approach to crop health, Charles visited the research station and experimental fields of the Department of Agroecology, Aarhus University, which are situated in Flakkebjerg, near Slagelse, Zealand. In the field, senior researcher, Lise Nistrup Jørgensen, explained the procedures of detecting and controlling diseases in maize, and how the department works with the agricultural sector and with the government. During a tour of AU Flakkebjerg, the facilities of which cover about 16,000 m2, Lise Nistrup Jørgensen, told about the activities inside the labs, climate chambers, and green houses. AU Flakkebjerg has a wide range of international cooperation within applied plant research. There are about 25-30 PhD students and guest researchers of many nationalities, some of whom Charles met in the canteen of AU Flakkebjerg during the final discussion of the day visit.
Charles Kwowe Nyaaba thinks a research facility of this nature would greatly benefit Ghanaian farmers, their livelihood, and the national economy at large. Another visionary encounter awaited Charles right in the city of Copenhagen on a rooftop owned by a car sales company.  On this solid cement floor in open air, the former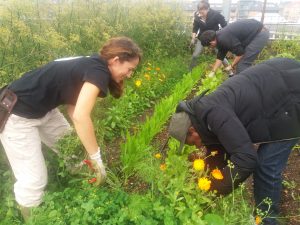 parking lot is now holding 110 tons of earth, in which thousands of vegetables, flowers, and fruits grow. At Oestergro, there are also hens, rabbits, a greenhouse, compost production, and fresh water collection from the rain. In the restaurant on the roof top, you can enjoy delicious dishes based on the produce from the urban farm itself. This model may not apply directly in Accra, Ghana. But something of that kind could provide an alternative to the long distance transport of food from rural regions to the capital, says Charles Kwowe Nyaaba.  In terms of practical application, Charles touched base with two Danish businessmen already involved in farming and livestock in Ghana. They discussed potential for future joint commercial projects. For his academic work, Charles hopes for an opportunity for a longer study period in Denmark to enhance the PhD thesis.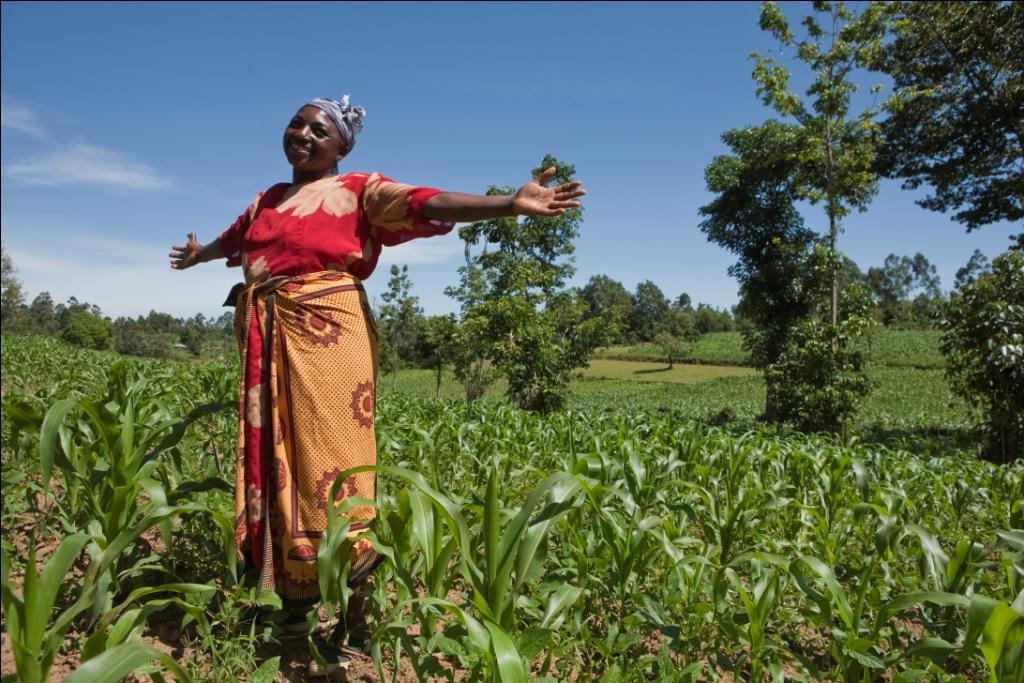 The Peasant Farmers Association of Ghana (PFAG), is the apex Farmer-Based Non-Governmental Organization in Ghana with the mandate to advocate for pro poor agriculture and trade policies and other issues that affects the livelihoods of small holder farmers. Formed in August 2005, our mission is to develop beneficial programmes favourable for increasing agricultural production, processing and, marketing through building and strengthening the capacities of farmers in policy advocacy and entrepreneurial skills and improve access to local, national and international markets and resources.
Membership of PFAG currently stands at 1,527 registered Farmer Based Organizations (FBOs) comprising 38,989 individual members. The membership is made of 45% female farmers and over 80% are small scale and poor. Most of them are settlers in the remotest communities and have limited access to basic social services such as education, health care services and financial resources. Advocating for policies that will lead to accessing better services for all these categories of people has been the main aim for the formation of the association. The Association has 66 Focal persons in 55 operational districts in all the ten regions of Ghana who support in project implementation. The farmers produce a wide range of food crops such as Cassava, Rice, Maize, Yam, Millet, Soyabean, Watermelon, Groundnut, Potatoes, Cashew, Cotton, Vegetables including pepper, tomatoes, onion, okra etc. across the ten regions of the country.