In the beginning of the 21st century, the TUCED programme initiated exchange programmes for Danish and Thai master students. To Warisara Sereewatthanachai it meant that she could help bring new methods for substance analysis into the private sector in Thailand.
In 2002 students from three Thailand Universities was offered a scholarship to do their master thesis in a university in Denmark.
One of them was Warisara Sereewatthanachai, who was a student at Prince of Songkhla University at the Department of Environmental Management. In 2002 her supervisors, Professor Chatchai Ratanachai and Professor Penjai Sompongchaiyakul encouraged her to apply for one of the grants, and from that things went fast, and she soon found herself in a plane towards Copenhagen. The following five months, she worked on her master thesis at the Technical University of Denmark (DTU).
"It was a great opportunity. Not only the studies, but for my life in general," she tells in her car in one of the main streets in Hat Yai, the most significant commercial center in the southern region of Thailand, where the interview takes place.
Cadmium and phosphorous flow in agricultural land
Her thesis focused on environmental analytical approaches to provide information for sustainable use of substances at a regional level. To do this, she did a Substance Flux Analysis (SFA) to account materials, resource use, accumulation and loss in a geographic region at a specific year. This can be an essential input for risk assessment framework.
A heavy metal, cadmium was selected, and used as an illustrative case study in a system boundary of Songkhla Lake Basin. The main finding of the SFA study showed that most of the cadmium in the environment was a direct result of human activities and also the use of phosphate fertilizers that can contaminate the agricultural soils.
"I took soil samples from the agricultural land at the Songkhla Lake Basin to the laboratory in DTU. Then the laboratory technician who came from the same university as me, checked the levels of phosphorous and cadmium in the soil samples, as part of her project, and I could use the results for my analysis," Warisara Sereewatthanachai explains.
Cadmium is a toxic metal that will accumulate in the human body, especially in the kidneys. It can be damaging to various organisms and plants. It is no surprise, that the content of cadmium stored in the soil is an important parameter when considering agricultural use.
Phosphorous is accumulated in wastewater from urban areas. It important for plants metabolism and accordingly for the growth of the crops. However, too much phosphorous is bound to the soil, may influence the surroundings negatively. In the case of Songkhla Lake Basin, an overflow could cause algae growth and subsequently a lack of oxygen in the lakes. Therefore, the flow of supply and discharge of phosphorous in agricultural soil must be balanced.
At the time being, there was not many measurements of the levels of cadmium and phosphorus in the soils of Southern Thailand, so first step was to determine whether or not there was an accumulated presence of these two elements in the soil.
"My findings were that there was an accumulation of phosphorous and cadmium in the area around Songkhla Lake Basin," Warisara Sereewatthanachai tells.
However, another finding was that the soils of Songkhla Lake Basin are acidic, which means that the mobility of cadmium in the soil is high. In other words, if the discharge of cadmium on the farmland is high, it will not accumulate in the soil, but is likely to rapidly be absorbed by the crops. This must be considered when using organic waste as fertilizer.
Foreign experience an advantage
Most Thai students are going to the US or England. But grabbing the chance of doing something different than the majority, especially getting experience from a country that was known as very environmentally conscious, did give her new insight in environmental planning, and on personal level, it had an effect on her career, Warisara Sereewatthanachai thinks.
"I benefitted so much from this project. For example, when I applied for my first job. I could utilize the experience and it gave me a good firsthand opportunity. Even though my work was not related to my background or my thesis, I could adapt the method for my work. My first job was about system approaches on the ISO requirements. I could take the concept of mass balance, the process of input/output, and apply that to my job."
Today she works in the company Trans Thai-Malaysia which is the joint venture company between Thailand and Malaysia for natural gas transportation and separation plant. At the time of interview, she had just rotated from strategic planning to a new function, as internal audit & compliance.
Different learning styles
The scholarship offered to Warisara Sereewatthanachai was part of an exchange programme in the consortium TUCED/DUCED (Thai/Danish University Consortium on Environment and Development). The exchange of students was as a part of the capacity building in Southern Asia emphasizing research and education in environmental management in urban areas.
One of the aims was to introduce different learning styles and multidisciplinary approaches and to support networking activities. The programme was mainly set up as inspiration for lecturers and professors, but the input from students have been an important part of the capacity building.
When asked, Warisara Sereewatthanachai was quite fond of the way teaching was done at DTU during her stay.
"In Denmark they (the students) are learning by themselves. They (the lecturers) gave some advice, and we had to find the solution by ourselves. When we got our results, we did not just get a yes or no, but had to recheck ourselves. I loved it so much," she says.
Berit Viuf is a Danish science journalist; the interview was conducted during a reporting trip to Malaysia and Thailand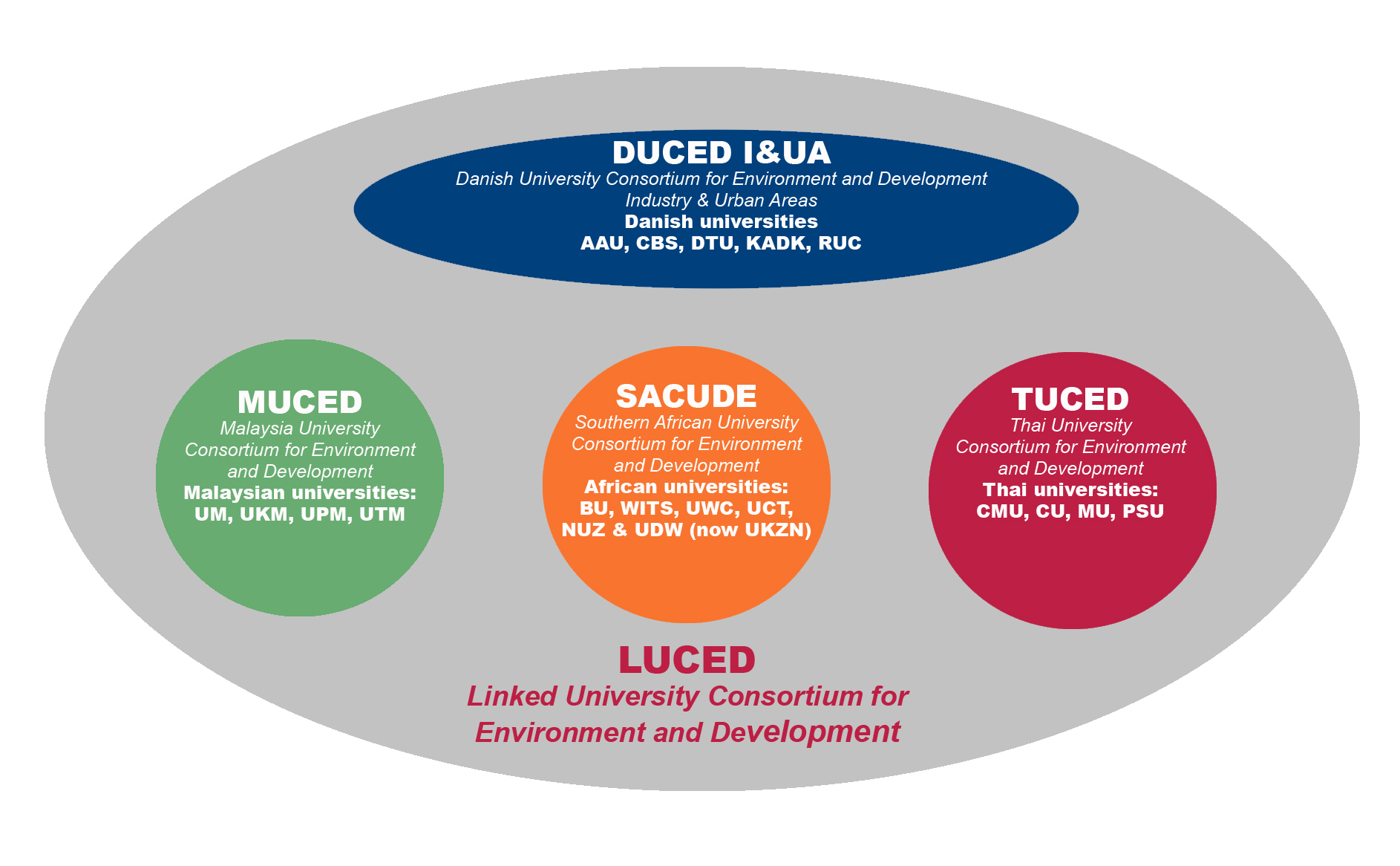 In 1998 DUCED, a consortium of five Danish universities was established by DANCED (Danish Co-operation for Environment and Development, Ministry of Environment & Energy), in order to work on capacity building to enhance sustainable development in Denmark and other parts of the world.
The idea if capacity building in DUCED was to build competences by supporting higher education, and it split out in two programmes: DUCED-SLUSE (Sustainable Land Use), and DUCED I&UA (Industry and Urban Areas). 
During the first years, DUCED (Industry and Urban Areas) involved planning and preparation of how to secure capacity building in higher education. For example by developing courses at Danish universities, to provide basis for training of Danish students in developing countries.
After these first initiatives, the project went into the consolidation phase, and in 2001 three consortia was created in Malaysia (MUCED), Southern Africa (SAUCED) and Thailand (TUCED). Each consortium consisted of four to six national universities, and each university had several faculties associated. The four consortia went under the name LUCED (Linked University Consortium for Environment and Development) and was targeted capacity building by educating academic staff and students in environmental management.
Six key research themes were selected, in order to address the urgent environmental challenges the targeted Asian and African countries faced due to fast urban growth and expanding industry.
Water resource management in industrial and urban areas

Chemical assessment of the environment

Resource recycling in industries and urban areas

Comparative environmental impact assessment

Planning and public participation of environmental projects

Environmental management
Different networks of academics from the participating universities was formed around these six research areas.